Adrenalin Jet Ski Fleet | Tips & Information | Where are we located | Jet Ski Safari
Adrenalin Fiji has been safely providing Jet Ski Safaris from Denarau Island since December 2005. Book with confidence knowing that you are with the original and most experienced jet ski provider in Fiji who offer the largest number of the newest jet skis available for hire.
For guests looking for watersports during their holiday, and who want to Jet Ski in Fiji, we offer you jet ski rides around a set beachside course in front of the Sheraton and Sofitel Resorts on Denarau Island. Here at these locations we have crew, re-fuelling supplies, and rescue support in case you need our help (rarely needed, but we are on standby just in case!). Within easy walking distance from the Hilton or Radisson and Wyndham Resorts (Sheraton is a neighbour), this is ideal for those who wish to try the activitiy for the first time, or to take a young family member on a fast ride that stays close to shore.
For a bit more action adventure book the jet ski safari and be led offshore by experienced guides around a Mamanuca island route for fun, action and adventure and to enjoy Fiji's tropical scenery and warm weather. Allow 2.5 hours for the activity, enjoy snorkelling and a brief stop at an idylic island during the safari.
Jet Ski Safari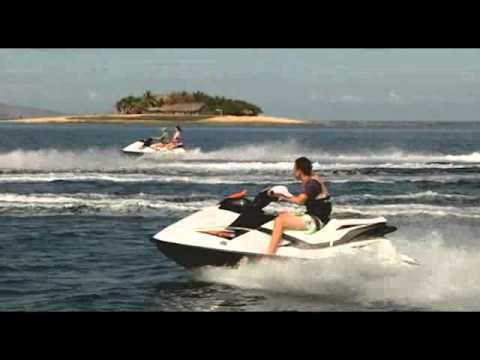 A Fiji Islands holiday 'Bucket List' item - don't miss out!
Guided 2.5 hour tours that depart daily 9:00am & 12.00pm
Safety orientation, briefing and advice provided
Adrenalin is the original and No.1 jet ski safari company in Fiji
Weight limits apply, and for solo and tandem riders, the maximum weight capacity is 180kg
Ask for Adrenalin's easy secure online payment service
SPECIALS!! Available to 30 June 2015

| | |
| --- | --- |
| Solo: | FJD480 |
| Tandem: | FJD480 (that is FJD240 pp) |
Regular Prices valid to 31 March 2016

| | |
| --- | --- |
| Solo: | FJ$538 |
| Tandem: | FJ$575 (that is FJD287.50 p/person) |
FAQ
Q: What is included?
A: Experienced guides, Jet ski unit, fuel, flotation vest, a bottle of water, landing fees and a fun self-drive jet ski ride.

Q: What time would it leave?
A: The safaris depart at 9.00am and 12.00pm daily, subject to weather

Q: Where does it leave from?
A: Currently our jet ski safari departs daily from the Adrenalin Base located beachside at the Sofitel Resort & Spa.

Q: Just wondering how many times you run the jet ski safaris each day, and do I need to book?
A: Two jet ski safaris depart each day. During peak times, and subject to weather conditions we do sometimes run a third safari in the afternoon. We strongly recommend that you book in advance to avoid missing out.

Q: Do I need to be an experienced jet ski rider?
A: No. We provide a briefing before departure and show you how to ride your jet ski. We emphasise safety and issue precautions.

Q: What about safety?
A: Adrenalin Fiji has been operating its Jet Ski Safari for almost ten years and is proud of its clear safety record. We are very serious about service and maintenance of our machinery, and place major emphasis on safe conduct of our guests. It is essential that all guests receive the safety briefing before the safari departure, and in the unfortunate event that a customer does not wish to follow the guide's instructions, they will be escorted back to base with no refund.

Q: We are staying at another resort off Denarau can we book the Jet Ski Safari? Do you provide transfers?
A: Everyone is welcome to book the jet ski safari. On Denarau Island, guests make their own way to the jet ski base located at the Adrenalin Bure on Sofitel Beach - this is a nice walk on the beach or a FJD7 (AUD4.50) taxi ride. We pick up guests staying at Nadi hotels and backpackers, so please confirm pickup time and be ready so you don't miss out.

Q: Where do we need to meet for pick up on the day?
A: If Adrenalin is picking you up, you will need to be at your hotel lobby at the designated time, because the driver needs to pick up other guests. If you are late, the driver may not be able to wait for you, then you will need to make your own way.


Q: What shall we bring and will I get wet ?
A: Waterproof-cameras, tight-fitting cap, sunglasses with the sports band to avoid falling off your head, sunscreen and a rashy or t-shirt. Towels are optional. Bring some cash in case you want to buy a drink at the island-stop.

Q: Is there a place to store my stuff?
A: There is a small compartment in the front of the jet ski and it is not guaranteed to be waterproof therefore we suggest limiting your gear.

Q: On your Jet Ski Safari is there time to do some snorkelling?
A: The Adrenalin jet ski safari includes a break for swimming and snorkelling.

Q: How far in advance would you recommend making reservations?
A: We recommend booking ahead prior to your arrival disappointment. We also recommend to book early in your stay in case weather conditions force us to reschedule to another day.

Q: Do you offer private tailor-made safaris?
A: Yes we do. This is excellent for special occasions and group bookings. These specialised tours attract surcharges and extra costs due to back-up vessels and extra fuel and crew, however if you are interested, please send us your enquiry to info@adrenalinfiji.com
Learn More
Adrenalin's very popular action adventure is our Jet Ski Safari! Ride solo or tandem, and be led by our experienced guides through our tropical island paradise of the Mamanuca Islands.
The 2.5 hour adventure tour takes you offshore around islands and offers a rest break at a sand quay or island location, where you can enjoy snorkelling with tropical fish.
The trail takes you over deep water and then shallow reef sections so you can ride wild and mild. Fiji is known for its pristine waters, tropical islands, and warm weather so a jet ski safari is the perfect way to enjoy your holiday. Action and adventure....this activity should be on your list of "must do activities" while in Fiji.
Jet Ski 'On the Course'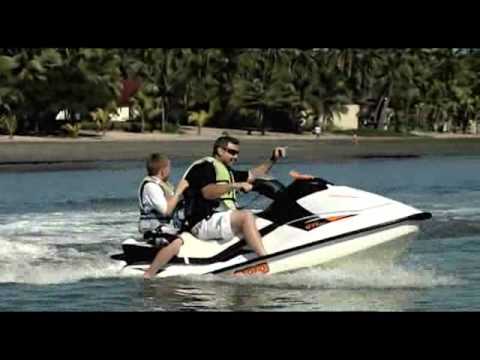 Book to ride the newest jet ski fleet on Denarau (new Sea-Doo's arrived Dec'14)
Loads of fun - ride fast or slow! Easy to use and no experience necessary
Easy to use and you start with a safety briefing and orientation how to ride your jet ski


Prices valid to 31 March 2016

15 Minutes


30 Minutes




Solo

:

FJ$120
FJ$195

Tandem

:

FJ$135
FJ$210
FAQ
Q: What is a Jet Ski Track Workout?
A: This is when a jet ski rider drives a jet ski around a set course marked by strategically-placed large floating markers (buoys).

Q: Why do I have to ride my jet ski around a set area?
A: This is for the safety and enjoyment of all the guests who are swimming and using the beach area. This also allows the Adrenalin beach staff to observe your jet ski ride, and to come to your assistance if you need it.

Q: Where can I ride a jet ski on a workout course?
A: Adrenalin offers jet ski workout rides from the Adrenalin beach burés based at the Radisson Blu Resort and Sofitel Resort & Spa, located on Denarau Island, Nadi.

Q: What time can I book?
A: Jet Ski rides are available daily and usually start from 8:30am. Times are flexible and are subject to availability.

Q: How long is the ride?
A: You can hire a jet ski to ride around the course for 15 minutes and 30 minutes interval.

Q: Can anyone ride a jet ski?
A: Providing you can wear a flotation vest, and operate a machine, you can ride the jet ski. Children must be over 8 years of age and accompanied by a parent or guardian over 18 years of age. Adrenalin staff will provide instructions and safety briefing before you start your ride.

Q. What if I don't want to stay on the workout course?
A. Then you should consider going on our popular guided Jet Ski Safari that leaves at 9:00am and 12:00-noon daily (weather permitting). This takes you on a scenic tour with a 2.5 hour duration and you get a thorough ride on a jet ski.

Q: What do I wear?
A: You will get wet! We recommend you wear beach clothes, a rashie, a tight fitting hat, bring a towel and wear sunscreen. Adrenalin will supply you with a flotation vest for your ride.

Q: How many people can ride on a Jet Ski?
A: Our jet skis are designed for 1 passenger riding solo, or for two passengers riding tandem with the maximum weight not exceeding 180kg.

Q: What about groups?
A: Adrenalin Fiji can cater for groups. Please ask us for your individual quote by emailing us at info@adrenalinfiji.com

Q: What about Safety Standards?
A: Adrenalin Fiji prioritizes Safety for guests and staff. Each passenger must wear a flotation vest and attend a safety orientation before doing course work. Breaching of Safety instructions is treated very seriously and those who fail to follow instructions will forfeit their ride early.
Learn More
Zoom around the 'track' that is mapped out by brightly coloured buoys and customise the ride to suit your pace. While keeping to the set course, you can enjoy this exciting watersport by speeding over the waves or slowly cruising. Available solo or tandem - this is a worldwide favourite holiday activity of travelers from everywhere.